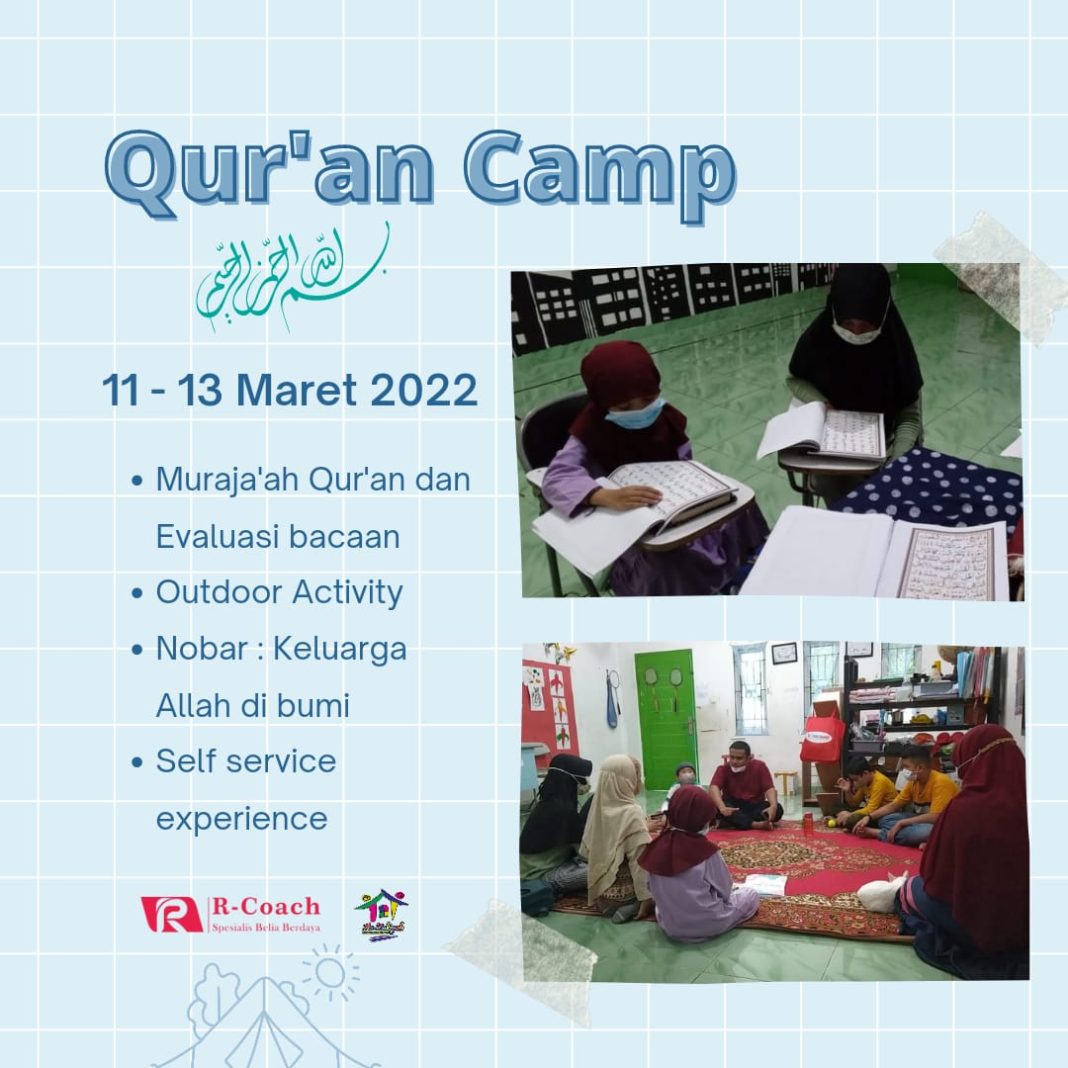 Bismillah
السلام عليكم ورحمة الله وبركاته
Weekend With Quran merupakan salah satu kegiatan leadership yang dilaksanakan oleh Sekolah Azzakiyah Islamic Leadership. kegiatan ini bertujuan untuk mendekatkan anak dengan Al Quran. selain itu kegiatan Weekend With Quran yang biasa disingkat dengan WWQ juga bertujuan belajar Al Quran bersanad. WWQ menghadirkan suasana belajar yang menyenangkan dan sesuai dengan kebutuhan anak. Kegiatan ini dilaksanakan tidak hanya di dalam ruangan, tetapi juga menghadirkan suasana belajar Al Quran diluar ruangan.
Seperti yang dirancang saat ini, kegiatan Quran Camp With SAIL yang menghadir tema camping dialam. Tentunya dengan mengangkat tema seperti ini akan menghadirkan suasana belajar Al Quran yang berbeda dari biasanya. Kegiatan belajar Al Quran yang tidak hanya belajar Al Qura saja, tetapi melatih jiwa Leadership anak.
Acara Qur'an Camp bertujuan untuk mengajak anak bersama-sama merasakan aktifitas bersama Al-Qur'an secara penuh. Di sela-sela kegiatan juga adanya games bersama Al-Qur'an dan penguatan dalam tujuan belajar Al-Qur'an. Diharapkan setelah Qur'an Camp, mereka merasakan cinta dan rindu akan tilawah Al-Qur'an di sela-sela kegiatan di rumah.
Pada saat kegiatan Qur'an Camp juga akan dilaksanakan program kegiatan mengevaluasi hafalan anak. hal ini bertujuan untuk meningkatkan semangat anak dalam menghafal Al Quran
Jazaakumullahu khayraa atas perhatian Ayah Bunda.
والسلام عليكم ورحمة الله وبركاته